Session in the "Weinbrenner Saal" of the convention center Karlsruhe
On October 13-14 2014, the ANKA Synchrotron Radiation Facility and the Karlsruhe NanoMicro Facility (KNMF) hosted their sixth joint annual Users' Meeting in the centrally located Convention Center Karlsruhe.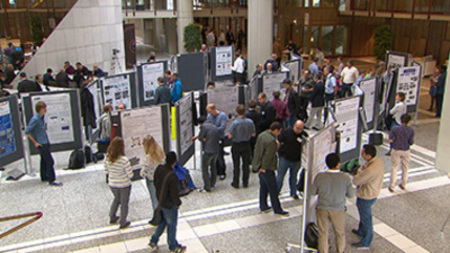 Postersession in the convention center Karlsruhe
The two-day meeting was attended by almost 200 international participants representing universities, research facilities and companies.
The meeting started with the newly initiated topical breakfast meetings with positive response from the participants.
Afterwards Prof. Clemens Heske and Dr. Jürgen Mohr reviewed the status, infrastructure and technical progress of both facilities.
Within the general program speakers from the areas of infrared spectroscopy, lithography and surface analyses presented their recent research at ANKA.
The meeting closed on the second day with several training courses at KNMF and on the IR beamlines at ANKA - KIT Campus North.