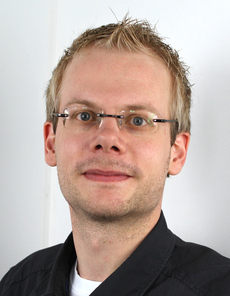 Dr. Thomas van de Kamp
Current positions
Previous positions
Scientist, KIT-LAS
Postdoctoral Researcher, KIT-IPS
Research assistant, KIT-IPS
Scientific trainee, State Museum of Natural History Karlsruhe
PhD Student, Heinrich Heine University Düsseldorf
Education
2011: PhD (Dr. rer. nat.), Heinrich Heine University Düsseldorf
2007: Diploma in Biology, Heinrich Heine University Düsseldorf
Field of research
Functional morphology and evolutionary biology of insects
Digital imaging of biological and paleontological specimens
Biomimetics
Prizes/Fellowships
Ongoing projects
Joint-X (2023 – 2026)
KI-Morph (2023 – 2026)
SMART-Morph (2022 – 2025)
HIGH-LIFE (2020 – 2023)
Completed projects
Publications
'Stab, chase me, mate with me, seduce me': how widespread is traumatic insemination in Strepsiptera?

Jandausch, K.; van de Kamp, T.; Beutel, R. G.; Niehuis, O.; Pohl, H.

2023. Biological Journal of the Linnean Society, 140 (2), 206 – 223.

doi:10.1093/biolinnean/blad046

Automated 3D-modeling of small invertebrates

Klug, N.; Wührl, L.; Rotmann, K.; van de Kamp, T.; Meier, R.; Pylatiuk, C.

2023, October 16. 12. European Congress of Entomology (ECE 2023), Heraklion, Greece, October 16–20, 2023

Simulated biomechanical performance of morphologically disparate ant mandibles under bite loading

Klunk, C. L.; Argenta, M. A.; Rosumek, F. B.; Schmelzle, S.; van de Kamp, T.; Hammel, J. U.; Pie, M. R.; Heethoff, M.

2023. Scientific Reports, 13 (1), Art.-Nr.: 16833.

doi:10.1038/s41598-023-43944-8

Biocatalytic Foams from Microdroplet‐Formulated Self‐Assembling Enzymes

Hertel, J. S.; Bitterwolf, P.; Kröll, S.; Winterhalter, A.; Weber, A. J.; Grösche, M.; Walkowsky, L. B.; Heißler, S.; Schwotzer, M.; Wöll, C.; van de Kamp, T.; Zuber, M.; Baumbach, T.; Rabe, K. S.; Niemeyer, C. M.

2023. Advanced Materials.

doi:10.1002/adma.202303952

Data from: Evolution of flexible biting in hyperdiverse parasitoid wasps

Van De Kamp, T.; Mikó, I.; Staniczek, A. H.; Eggs, B.; Bajerlein, D.; Faragó, T.; Hagelstein, L.; Hamann, E.; Spiecker, R.; Baumbach, T.; Janšta, P.; Krogmann, L.

2021, December 1.

doi:10.5061/dryad.0rxwdbs1x

A new species of Bocchus from upper Eocene Rovno amber (Hymenoptera, Dryinidae)

Olmi, M.; Eggs, B.; Capradossi, L.; Kamp, T. van de; Perkovsky, E. E.; Guglielmino, A.; Vasilenko, D. V.

2022. Journal of Hymenoptera Research, 92, 257–272.

doi:10.3897/jhr.92.87084

Have female twisted-wing parasites (Insecta: Strepsiptera) evolved tolerance traits as response to traumatic penetration?

Jandausch, K.; Michels, J.; Kovalev, A.; Gorb, S. N.; van de Kamp, T.; Beutel, R. G.; Niehuis, O.; Pohl, H.

2022. PeerJ, 10, Art.Nr. e13655.

doi:10.7717/peerj.13655

Evolution of flexible biting in hyperdiverse parasitoid wasps

Kamp, T. van de; Mikó, I.; Staniczek, A. H.; Eggs, B.; Bajerlein, D.; Faragó, T.; Hagelstein, L.; Hamann, E.; Spiecker, R.; Baumbach, T.; Janšta, P.; Krogmann, L.

2022. Proceedings of the Royal Society B: Biological Sciences, 289 (1967), Art.-Nr.: 2021.2086.

doi:10.1098/rspb.2021.2086

Juvenile ecology drives adult morphology in two insect orders

Rühr, P. T.; Kamp, T. van de; Faragó, T.; Hammel, J. U.; Wilde, F.; Borisova, E.; Edel, C.; Frenzel, M.; Baumbach, T.; Blanke, A.

2021. Proceedings of the Royal Society B: Biological Sciences, 288 (1953), Art.-Nr.: 20210616.

doi:10.1098/rspb.2021.0616

Fat in the Leg: Function of the Expanded Hind Leg in Gasteruptiid Wasps (Hymenoptera: Gasteruptiidae)

Mikó, I.; Rahman, S. R.; Anzaldo, S. S.; Kamp, T. van de; Parslow, B. A.; Tatarnic, N. J.; Wetherington, M. T.; Anderson, J.; Schilder, R. J.; Ulmer, J. M.; Deans, A. R.; Hines, H. M.

2019. Insect systematics and diversity, 3 (1), Art. Nr.: ixy020.

doi:10.1093/isd/ixy020

Introducing Biomedisa as an open-source online platform for biomedical image segmentation

Lösel, P. D.; Van de Kamp, T.; Jayme, A.; Ershov, A.; Faragó, T.; Pichler, O.; Tan Jerome, N.; Aadepu, N.; Bremer, S.; Chilingaryan, S. A.; Heethoff, M.; Kopmann, A.; Odar, J.; Schmelzle, S.; Zuber, M.; Wittbrodt, J.; Baumbach, T.; Heuveline, V.

2020. Nature Communications, 11 (1), Article no: 5577.

doi:10.1038/s41467-020-19303-w

Roach nectarivory, gymnosperm and earliest flower pollination evidence from Cretaceous ambers

Sendi, H.; Hinkelman, J.; Vršanská, L.; Kúdelová, T.; Kúdela, M.; Zuber, M.; Kamp, T. van de; Vršanský, P.

2020. Biologia, 75, 1613–1630.

doi:10.2478/s11756-019-00412-x

Jumping and Grasping: Universal Locking Mechanisms in Insect Legs

Földvári, M.; Mikó, I.; Ulmer, J. M.; Santos Rolo, T. dos; Csősz, S.; Pomiankowski, A.; Baumbach, T.; Kamp, T. van de

2019. Insect Systematics and Diversity, 3 (6), 1–16.

doi:10.1093/isd/ixz018

Revision of Trassedia (Hymenoptera: Ceraphronidae), an Evolutionary Relict With an Unusual Distribution

Mikó, I.; Trietsch, C.; Kamp, T. van de; Masner, L.; Ulmer, J. M.; Yoder, M. J.; Zuber, M.; Sandall, E. L.; Baumbach, T.; Deans, A. R.

2018. Insect Systematics and Diversity, 2 (6), 29 Seiten.

doi:10.1093/isd/ixy015

Parasitoid biology preserved in mineralized fossils

Kamp, T. van de; Schwermann, A. H.; Santos Rolo, T. dos; Lösel, P. D.; Engler, T.; Etter, W.; Faragó, T.; Göttlicher, J.; Heuveline, V.; Kopmann, A.; Mähler, B.; Mörs, T.; Odar, J.; Rust, J.; Tan Jerome, N.; Vogelgesang, M.; Baumbach, T.; Krogmann, L.

2018. Nature Communications, 9 (1), Article: 3325.

doi:10.1038/s41467-018-05654-y

A new megaspilid wasp from Eocene Baltic amber (Hymenoptera: Ceraphronoidea), with notes on two non-ceraphronoid families: Radiophronidae and Stigmaphronidae

Mikó, I.; Kamp, T. van de; Trietsch, C.; Ulmer, J. M.; Zuber, M.; Baumbach, T.; Deans, A. R.

2018. PeerJ, 6, e5174.

doi:10.7717/peerj.5174

UFO — a scalable platform for high-speed synchrotron X-ray imaging

Kopmann, A.; Chilingaryan, S.; Vogelgesang, M.; Dritschler, T.; Shkarin, A.; Shkarin, R.; Santos Rolo, T. dos; Farago, T.; Kamp, T. van de; Balzer, M.; Caselle, M.; Weber, M.

2016. 2016 IEEE Nuclear Science Symposium, Medical Imaging Conference and Room-Temperature Semiconductor Detector Workshop (NSS/MIC/RTSD), Strasbourg, France, 29 October–6 November 2016, 1–5, Institute of Electrical and Electronics Engineers (IEEE).

doi:10.1109/NSSMIC.2016.8069895

Inspiration from VR Gaming Technology: Deep Immersion and Realistic Interaction for Scientific Visualization

Bergmann, T.; Balzer, M.; Hopp, T.; Kamp, T. van de; Kopmann, A.; Jerome, N. T.; Zapf, M.

2017. IVAPP 2017 : 8th International Conference on Information Visualization Theory and Applications, Porto, Portugal, 27. Februar - 1. März.2017. Vol.: 3. Ed.: L. Linsen (IVAPP is part of VISIGRAPP, the 12th International Joint Conference on Computer Vision, Imaging and Computer Graphics Theory and Applications), 330–334, SciTePress.

doi:10.5220/0006262903300334

The NOVA project: maximizing beam time efficiency through synergistic analyses of SRμCT data

Schmelzle, S.; Heethoff, M.; Heuveline, V.; Lösel, P.; Becker, J.; Beckmann, F.; Schluenzen, F.; Hammel, J. U.; Kopmann, A.; Mexner, W.; Vogelgesang, M.; Jerome, N. T.; Betz, O.; Beutel, R.; Wipfler, B.; Blanke, A.; Harzsch, S.; Hörnig, M.; Baumbach, T.; Kamp, T. van de

2017. Developments in X-Ray Tomography XI, San Diego, CA, August 6-10, 2017. Ed.: B. Müller, 103910P, Society of Photo-optical Instrumentation Engineers (SPIE).

doi:10.1117/12.2275959

OpenGL® API Based Analysis of Large Datasets in a Cloud Environment

Mexner, W.; Bonn, M.; Kopmann, A.; Mauch, V.; Ressmann, D.; Chilingaryan, S.; Tan Jerome, N.; Kamp, T. van de; Heuveline, V.; Lösel, P.; Schmelzle, S.; Heethoff, M.

2018. Design and Use of Virtualization Technology in Cloud Computing. Ed.: P. Kumar Das, 161–181, IGI Global.

doi:10.4018/978-1-5225-2785-5.ch006

Augmented laminography, a correlative 3D imaging method for revealing the inner structure of compressed fossils

Zuber, M.; Laaß, M.; Hamann, E.; Kretschmer, S.; Hauschke, N.; Van De Kamp, T.; Baumbach, T.; Koenig, T.

2017. Scientific reports, 7, 41413.

doi:10.1038/srep41413

UFO - a scalable platform for high-speed synchrotron X-ray imaging

Kopmann, A.; Chilingaryan, S.; Vogelgesang, M.; Dritschler, T.; Shkarin, A.; Shkarin, R.; Santos Rolo, T. dos; Farago, T.; Kamp, T. van de; Balzer, M.; Caselle, M.; Weber, M.; Baumbach, T.

2016. IEEE Nuclear Science Symposium (NSS) and Medical Imaging Conference (MIC), Strasbourg, F, October 29 - November 5, 2016

The fossil insects of the Quercy region: a historical review = Die fossilen Insekten der Quercy Region: eine historische Übersicht

Schwermann, A. H.; Wuttke, M.; Santos Rolo, T. dos; Caterino, M. S.; Bechly, G.; Schmied, H.; Baumbach, T.; Kamp, T. van de

2016. Entomologie heute, 28, 127–142

Optimizing structural and mechanical properties of cryogel scaffolds for use in prostate cancer cell culturing

Cecilia, A.; Baecker, A.; Rack, A.; Hamann, E.; Kamp, T. van de; Gruhl, F. J.; Hofmann, R.; Moosmann, J.; Hahn, S.; Kashef, J.; Bauer, S.; Faragó, T.; Helfen, L.; Baumbach, T.

2017. Materials science and engineering / C, 71, 465–472.

doi:10.1016/j.msec.2016.10.038

New fossil insect order Permopsocida elucidates major radiation and evolution of suction feeding in hemimetabolous insects (Hexapoda: Acercaria)

Huang, D.-Y.; Bechly, G.; Nel, P.; Engel, M. S.; Prokop, J.; Azar, D.; Cai, C.-Y.; Van De Kamp, T.; Staniczek, A. H.; Garrouste, R.; Krogmann, L.; Dos Santos Rolo, T.; Baumbach, T.; Ohlhoff, R.; Shmakov, A. S.; Bourgoin, T.; Nel, A.

2016. Scientific reports, 6, Art.Nr.: 23004.

doi:10.1038/srep23004

Spectral transfer from phase to intensity in Fresnel diffraction

Hahn, S.; Müller, Y.; Hofmann, R.; Moosmann, J.; Öktem, O.; Helfen, L.; Guigay, J. P.; Kamp, T. van de; Baumbach, T.

2016. Physical review / A, 93 (5), 053834.

doi:10.1103/PhysRevA.93.053834

Fast and time-resolved tomography at ANKA: Applications, infrastructure and data management

Kamp, T. van de; Santos Rolo, T. dos; Farago, T.; Kopmann, A.; Vogelgesang, M.; Chilingaryan, S.; Ershov, A.; Baumbach, T.

2015. 12th International Conference on Synchrotron Radiation Instrumentation (SRI 2015), New York, N.Y., July 6-10, 2015

Data workflows, integration with UFO and ANKA environment

Vondrous, A.; Jejkal, T.; Dapp, R.; Stotzka, R.; Mexner, W.; Ressmann, D.; Mauch, V.; Kopmann, A.; Vogelgesang, M.; Farago, T.; Kamp, T. van de

2015. 3rd ASTOR Working Day, Karlsruhe, March 19, 2015

LPE grown LSO:Tb scintillator films for high-resolution X-ray imaging applications at synchrotron light sources

Cecilia, A.; Rack, A.; Douissard, P. A.; Martin, T.; Santos Rolo, T. dos; Vagovic, P.; Hamann, E.; Kamp, T. van de; Riedel, A.; Fiederle, M.; Baumbach, T.

2011. Nuclear Instruments and Methods in Physics Research A / Supplement 1, 648, S321-S323.

doi:10.1016/j.nima.2010.10.150

TV-based conjugate gradient method and discrete L-curve for few-view CT reconstruction of X-ray in vivo data

Yang, X.; Hofmann, R.; Dapp, R.; Kamp, T. van de; Santos Rolo, T. dos; Xiao, X.; Moosmann, J.; Kashef, J.; Stotzka, R.

2015. Optics Express, 23 (5), 5368–5387.

doi:10.1364/OE.23.005368

Algebraic reconstruction of ultrafast tomography images at the large scale data facility

Yang, X.; Jejkal, T.; Stotzka, R.; Pasic, H.; Santos Rolo, T. dos; Kamp, T. van de; Streit, A.

2013. 14th International Conference on Accelerator & Large Experimental Physics Control Systems (ICALEPCS2013), San Francisco, Calif., October 6-11, 2013

Algebraic reconstruction of ultrafast tomography images at the large scale data facility

Yang, X.; Jejkal, T.; Stotzka, R.; Pasic, H.; Santos Rolo, T. dos; Kamp, T. van de; Streit, A.

2013. 14th International Conference on Accelerator & Large Experimental Physics Control Systems (ICALEPCS2013), San Francisco, CA, October 6-11, 2013, 996–999, NIF/LLNL

UFO - Status and perspectives of ultrafast X-ray imaging at ANKA

Chilingayan, S.; Balzer, M.; Caselle, M.; Santos Rolo, T. dos; Dritschler, T.; farago, T.; Kopmann, A.; Stevanovic, U.; Kamp, T. van de; vogelgesang, M.; Asadchikov, V.; Baumbach, T.; Myagotin, A.; Tsapko, S.; Weber, M.

2014. Deutsche Tagung für Forschung mit Synchrotronstrahlung, Neutronen und Ionenstrahlen an Großgeräten (SNI 2014), Bonn, 21.-23. September 2014

Algebraic reconstruction of ultrafast tomography images at the large scale data facility

Yang, X.; Jejkal, T.; Stotzka, R.; Pasic, H.; Santos Rolo, T. dos; Kamp, T. van de; Streit, A.

2013. 14th International Conference on Accelerator and Large Experimental Physics Control Systems, San Francisco, Calif., October 6-11, 2013

Data Analysis for Ultra Fast X-Ray Tomography

Yang, X.; Stotzka, R.; Thomas Jejkal; Santos Rolo, T. dos; Kamp, T. van de; Moosmann, J.; Hofmann, R.

2013. Data Life Cycle Lab. Key Technologies. Status 2013. Big Data in Science. Hrsg.: R. Stotzka, 4, Karlsruher Institut für Technologie (KIT)

High-performance computing hardware for high data rates

Chilingaryan, S.; Caselle, M.; Kamp, T. van de; Kopmann, A.; Mirone, A.; Stevanovic, U.; Santos Rolo, T. dos; Vogelgesang, M.

2013. HDRI/PanData Workshop, Hamburg, 4.-5.März 2013

Insect imaging at ANKA: Methods, recent developments and perspective

Kamp, T. van de; Santos Rolo, T. dos; Vagovic, P.; Riedel, A.; Baumbach, T.

2012. 24th Internat.Congress of Entomology, Daegu, Korea, August 29-24, 2012

High-speed x-ray imaging and image-based control at ANKA

Santos Rolo, T. dos; Kamp, T. van de; Vogelgesang, M.; Chilingaryan, S.; Cecilia, A.; Vagovic, P.; Kopmann, A.; Baumbach, T.

2012. Poster: 11th Internat.Conf.on Synchrotron Radiation Instrumentation (SRI 2012), Lyon, July 9-13, 2012

A versatile indirect detector design for hard X-ray microimaging

Douissard, P. A.; Cecilia, A.; Rochet, X.; Chapel, X.; Martin, T.; Kamp, T. van de; Helfen, L.; Baumbach, T.; Luquot, L.; Xiao, X.; Meinhardt, J.; Rack, A.

2012. Journal of Instrumentation, 7, P09016/1–26.

doi:10.1088/1748-0221/7/09/P09016

A high throughput platform for real-time Xray imaging

Chilingaryan, S. A.; Caselle, M.; Kamp, T. van de; Kopmann, A.; Mirone, A.; Stevanovic, U.; Santor Rolo, T. dos; Vogelgesang, M.

2012. 18th IEEE Real Time Conf., Berkeley, Calif., June 11-15, 2012

A high performance platform for real-time X-ray imaging

Chilingaryan, S. A.; Caselle, M.; Kamp, T. van de; Kopmann, A.; Mirone, A.; Stevanovic, U.; Santos Rolo, T. dos; Vogelgesang, M.

2012. GPU Technology Conf.2012 (GTC), San Jose, Calif., May 14-17, 2012
Further Publications
van de Kamp, T. (2011): The "pink wing" morph of Peruphasma schultei Conle & Hennemann, 2005 (Phasmatodea: Pseudophasmatidae). Entomologische Zeitschrift 121(2): 55-58.
Cecilia, A., Rack, A., Douissard, P.-A., Martin, T., dos Santos Rolo, T., Vagovič, P., Hamann, E., van de Kamp, T., Riedel, A., Fiederle, M. & Baumbach, T. (2011): LPE grown LSO:Tb scintillator films for high resolution X-ray imaging applications at synchrotron light sources. Nuclear Instruments and Methods in Physics Research A 648, Supplement 1: S321-S323.
van de Kamp, T. & Greven, H. (2010): On the architecture of beetle elytra. Entomologie heute 22: 191-204.
van de Kamp, T. & Greven, H. (2008): Structure of the specialised and unspecialised chorion of the egg in the stick insect Malacomorpha cyllarum (Phasmatodea). Entomologia Generalis 31(1): 63-74.
van de Kamp, T. & Greven, H. (2007): Die Struktur des Chorions von Carausius morosus (Sinéty, 1901) (Phasmatodea) mit besonderer Berücksichtigung der Mikropylenplatte. Entomologie heute 19: 99-113.
Contributions to Monographs
Mexner, W., Bonn, M., Kopmann, A., Mauch, V., Ressmann, D., Chilingaryan, S., Tan Jerome, N., van de Kamp, T., Heuveline, V., Lösel, P., Schmelzle, S. & Heethoff, M. (2017): OpenGL API based analysis of large datasets in a cloud environment. In: Das, K. & Deka, G.C. (eds): Design and Use of Virtualization Technology in Cloud Computing, IGI Global, Hershey, pp. 161-181. ISBN-13: 978-1522527855; ISBN-10: 1522527850.